Still on 'Rice Chronicles' our recipe this week is egg fried rice. We are bringing your attention to the health benefits of rice, accompanied with some delicious recipes. Rice is a household food and will always be for many generations to come.
Today lets take a look at another sumptuous and healthy way to eat rice- Egg Fried Rice.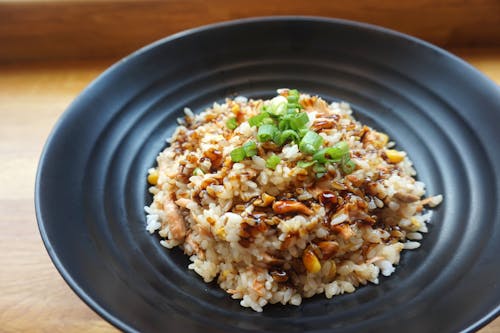 INGREDIENTS
5 cups of cooked rice
5 large eggs (divided)
¼ teaspoon paprika
¼ teaspoon turmeric
3 tablespoons oil (divided)
1 medium onion, finely chopped
½ red bell pepper, finely chopped
½ cup of frozen peas, thawed
11/2 teaspoon of salt to taste
¼ teaspoon of sugar
¼ teaspoon of black pepper
2 scallions, chopped.
Method
Beat 3 eggs into a bowl. Beat the other 2 eggs in a separate bowl, along with 2 tablespoons of water, the paprika, and the turmeric. Set the two bowls aside.
Heat a wok over medium-high heat, and add 2 tablespoons of oil. Add the 3 beaten eggs (without the spices), and scramble them. Remove it from the wok and set aside.
Heat wok over high heat, and add the last tablespoon oil. Add the diced onion and bell pepper. Stir-fry for about 1-2 minutes.
Next, you add the cooked rice and stir-fry for 2minutes, using a scooping motion to heat the rice uniformly. Use your wok spatula to flatten out and break up rice clumps. Pour the uncooked egg and spice mixture over the rice, and stir-fry for about 1minute, until all the rice grains are coated in the egg. Add up the peas and stir-fry continuously for another minute. Then sprinkle salt, sugar and black pepper over the rice and mix. When you notice some steam coming off the rice, that means it is heated.
If the rice looks a little dry, you can sprinkle in some water or chicken stock. Add some liquid to the remaining clumps of rice to break up. Mix in the scrambled eggs and scallions and serve!!
Contributor: Francisca
Read more in the rice chronicles here